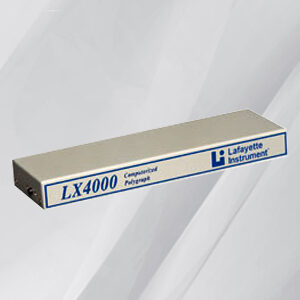 Pneumo – Two Respiration Input Channels
EDA – Galvanic Skin Response
Cardio – Blood Volume / Pulse Rate
We currently offer a Plethysmograph (PLE) Model 76599LX to measure finger pulse and blood volume, Activity Sensor Model 76879S to measure any movement by the subject to help identify countermeasures. A total of seven channels can be recorded at one time.
Charts are recorded in much the same manner as conventional polygraph instrumentation with a smooth scrolling display moving from right to left. The tracings recorded are in real-time and are truly rectilinear, so charts can be easily interpreted. See polygraph software page for a sample of the tracings. The system can be operated using a mouse / pointing device or the keyboard.
Product Specifications
Size: 10.25″ W x 3.25″ D x 1.25″ H (26.04cm x 8.26cm x 3.18cm)
Weight: 1 lb (454g)
Communication Interface: USB
Power Supply Requirements: Receives All Required Power Through USB Connection
Range: 10Kohms to 2.0Mohms
Isolation: 1500V RMS
LX4000 SENSOR INPUTS
| | | |
| --- | --- | --- |
| INPUT | CHANNELS | TYPE/SPECIFICATIONS |
| Cardio Arm Cuff | 1 | 0 to 110mmHG |
| Pneumograph Chest Assembly | 2 | +/-80mmHG |
| EDA | 1 | Current Applied to Skin 10µA, 0 to 4VDC |
| Auxiliary Input | 3 | 0 to 4V Analog Input |
MINIMUM COMPUTER SYSTEM REQUIREMENTS
At least a 1.5 GHz processor recommended
3 GB RAM for 32-bit OS or 4 GB RAM for a 64-bit OS
80 GB harddrive, with at least 20 GB free for video recording
Windows XP SP3 or greater, Windows Vista 32/64, or Windows 7 32/64
Super VGA (1024×768)
Support for DirectX 9 graphics with:

WDDM Driver
128 MB of graphics memory
Pixel Shader 2.0 in hardware
32 bits per pixel

DVD-ROM or DVD-RW drive
Audio Output
Keyboard and Microsoft ® Mouse or compatible pointing device
Available USB 2.0/3.0 Ports. Connecting a video camera to an external USB hub is not recommended.
Digital sound card required for multimedia capabilities
Digital video camera required for video capture. Logitech or Microsoft web camera recommended. Many popular IP (networked) cameras are supported by LXSoftware. However, IP cameras may experience audio/video lag or other undesirable behavior. The use of a directly-attached camera is highly recommended.
External Microphone may be required for recording audio, depending upon host computer's configuration (e.g. no built-in microphone), examine / examinee location, ambient noise, etc
* Additional resources may be required for certain video devices. Always consult the documentation for any selected video device to ensure the host computer meets the stated system requirements.
Product Features
Our new USB Interface enables the LX4000 to communicate with virtually any Windows based PC computer.
The LX4000 is capable of simultaneously displaying and recording seven input signals
The LX4000 is Small and Compact, making transporting it even easier.
The Redesigned EDA Circuit has a greater operating range, increased sensitivity and subject isolation.